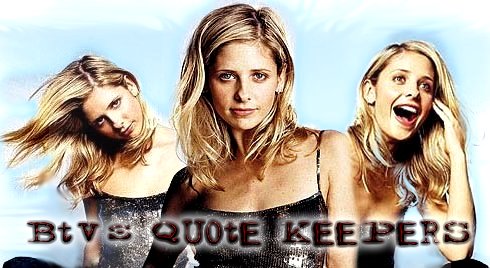 Buffy the Vampire Slayer Quote Keepers
NEWS


Fool For Love was the best Buffy episode ever! I've put up some of the Season 5 pages! Also, I have the request page updated for the next three episodes, but please don't request anything from them until after they've aired. Expect another update this weekend, and very soonly - a new layout, cos this one sucks. Watch Buffy and Angel and remember - send in your requests!

This page has been visited times.
EPISODE INDEX
Links to all
episode pages

SITE INFO
Acknowledgements
Banners
Contact Webmaster

RULES
Read them before
you request a quote!

KEEPER INDEX
Links to all of the
other keeper sites